Gardens always have a special place in our lifestyles. But with cities growing upwards and spaces squeezing around, it's difficult to have a garden of your own.
 But if you have a terrace or an extended balcony in your house, a private terrace garden is easy to make! Terrace gardens not only add a touch of green to your home but also give you an opportunity to conserve the environment while showcasing your creativity! Growing plants also has a therapeutic value, which helps you relax.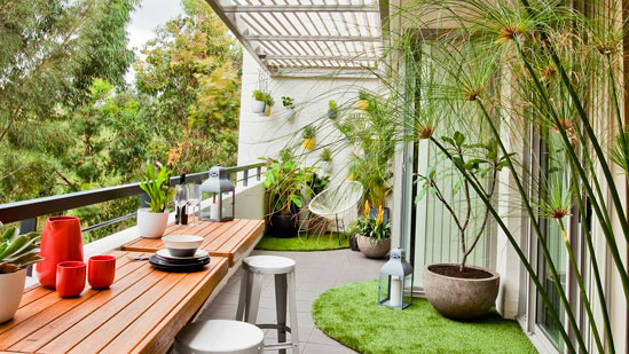 Where the roof is strong enough to support the weight of top soil, it's a great idea to add a lawn. The sight of a lawn outside the living room / bedroom in a modern apartment can be very striking and at the same time, relaxing.
Alternatively, you can use other hard landscaping materials like tiles and bricks to create a landscaped area and then plant your favourite plants in pots along the landscaping.
Add some colour by planting seasonal flowering plants. You can also match the flower plantation with the interiors of the room that leads to the terrace. This garden will offer you ample opportunity to showcase your creativity.
One thing to keep in mind is the drainage system. It should be such that when you water the plants, the floor or surrounding area does not become messy.
Having a garden in an apartment also calls for some responsibility. Like, while trimming your plants, watering them or performing other beautification and maintenance works, you should not disturb neighbouring houses or spill the shreds over to another balcony or down below in the common area.
Balcony gardens with a variety of potted and submerged greenery are a quiet oasis, showing how well nature can be adapted above ground. And if you are an organic freak, you may also want to pant some vegetables and fruits in it.
 So, if you have a terrace or a reasonably sized balcony, don't let this opportunity pass, to imbibe nature into your lifestyle!