Urban living has changed radically and the concept has changed from a house with basic amenities to a house with lots of modern amenities. The thought of luxurious apartment with all modern facilities has gained pace and the occupants place amenities at par with the location of the property. When the trend for an apartment loaded with latest facilities in the vicinity of urban facilities is fast gathering pace in other metros of the country then how could people of Jaipur lag behind to be abreast with the trend?
Fitness has become the buzz word with urbanites. Time constraints due to modern lifestyle have made it difficult for them to fix their fitness regimen to a schedule. People want to carry it out whenever they are free from their daily chores. Apartment seekers in Jaipur are looking for properties which have a ultra-modern club house with Swimming pool, Gymnasium, all weather walk way amidst a serene and congenial natural environment.
Platina Terraces by Anukampa Group a leading and established brand in urban housing is the apt answer to the above-mentioned requirements. Hardly a ten-minute drive from International Airport in Mansarovar is well connected with all happening commercial and residential addresses of the town. The main attractions of Platina Terraces are its private terraces and Club 21 a global standard compliant Club house with swimming pool gymnasium and a vast range of all most all sports facilities and leisure features required to rejuvenate one after a rigorous daily routine.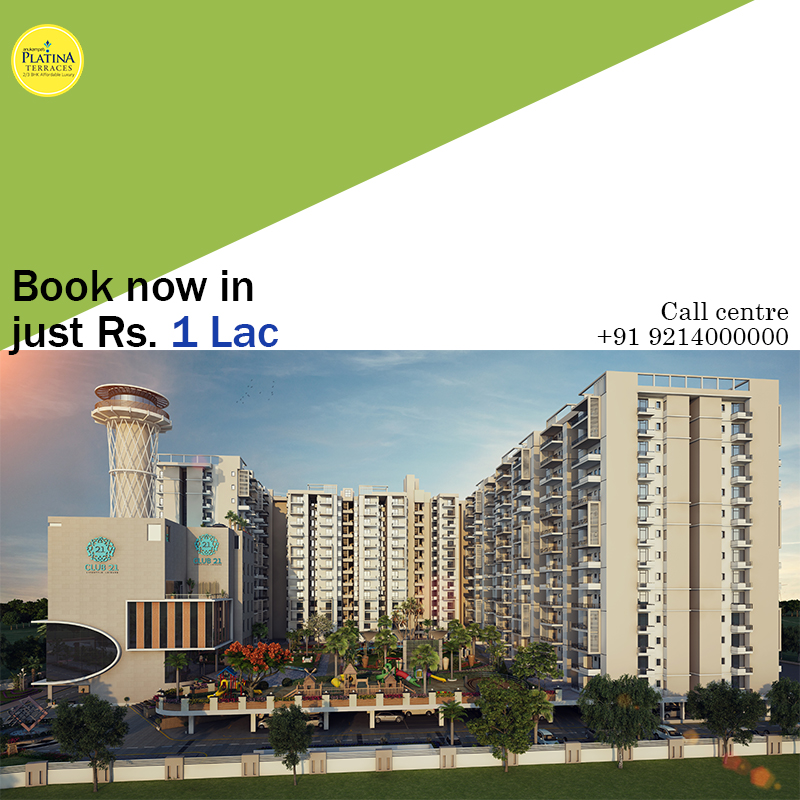 Platina Terraces is loaded not only with modern recreational facilities, the construction aspects have high aesthetic value and durability with  use of Natural stone tile, Premium vitrified tile, UPVC French windows, evenly painted wall with POP finish, Anti skid tiles wherever required and other modern fitments which are highlight of a modern home in Terraces, Living room, Kitchen, Bed Rooms and Bathrooms of its apartments
Platina Terraces with a vast and magnificent entry gate which casts an impression of grandeur and luxury these apartments provide, has three living options to offer:
2BHK A Type Unit: A unit designed for providing ample space to your own world measures 1066.79 sq. ft. in the area. The living room maintains family individuality and bedrooms are provided with wardrobes who acquire zero negative space. Of course ,the compliance of Vastu norms has been taken care of in this Unit.
2BHK B Type Unit: This unit measuring 1089.4 sq. ft. is designed to augment significance of time and money. The wardrobes are designed to save and give absolute wall to wall space. This unit is also Vastu complied.
3BHK B Type Unit:  This housing unit measuring 1499.51 sq. ft. is loaded with luxurious amenities along with personal requirements. Being provided with extra space than other options it is spacious and Vastu compliant. Wardrobes are distinctively designed to carve out more room space.
Your search for a luxurious yet affordable house will certainly end up with Platina Terraces as it complies with all talked about amenities that a modern house should have.